So you have finally made up your mind to sell your home in Plano and move. You might be downsizing. You might be upsizing. You might be buying another home in Plano. You might be moving to Carrollton. You might be moving to Thanet in the UK (where the locals call it "Planet Thanet"). No matter, you are moving home, and that's settled.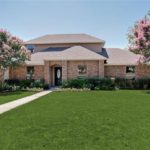 Well, it's settled apart from the actual moving bit. First you have got to find a buyer for your home in Plano. Now, do you appoint a realtor when you have to pay a large commission, or do you put it on the market yourself?
But hang on! You are getting a bit ahead of yourself here. If you want to sell your home for the best price you have got a bit of work to do. The fence needs fixing. The garage roof has a leak. The bathroom furniture is very old and tatty, and it could really do with a refit. The yard is a bit of a mess because the dogs and the kids go berserk out there, so that needs tidying up. And there's that path up to the front door that you have been meaning to fix for the last seven years. Yes. You have quite a lot on your hands before you can even consider putting your home on the market. And that also means that it is going to cost a pretty penny to get it all sorted out so that you can sell it.
Now You Can Put Your Home On The Market
OK, let's assume that you can do all that. You then put your home on the market with a realtor and you have a steady stream of people who you have to show around the house. Most of them you never hear from, but a couple of people put in silly offers which you reject. Then – joy of joys – somebody makes you a sensible offer and you grab it with both hands.
Only one problem. Your buyer now has to sell his home. He also has to get a mortgage. So you are looking at months before you can all sign on the dotted line and actually phone a removals company. Oh, if only there were professional cash buyers of homes in Plano, Texas, you wouldn't have all this endless hassle.
Hang on a minute! There are professional cash buyers of homes in Plano, Texas. They are called We Buy North Texas Homes. That's us. And it's what we do. We buy and sell homes. For cash.
We don't need a mortgage. We don't care about the garage roof, the bathroom, the fence, the front path, or the state of the yard. We are professional cash buyers of homes in Plano, Texas, and we will make you an offer – regardless. We guarantee to make you an offer.
You can be on your way out of there and have the cash in the bank. You don't need to spend a fortune doing your home up. You don't have to pay commission to a realtor.
Just cash. In the bank.