Selling your home in Plano, Texas, has never been an easy job. You have to put it on the market, show prospective buyers around, and when eventually you do get an offer it is for less than you want and the prospective buyer has a "take it or leave it" attitude.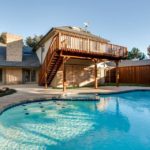 Even if you decide to take the offer, they then have to put their home on the market if it isn't already, obtain a mortgage, and so it goes on down the line. Somewhere along the way, somebody breaks the chain, for whatever reason, and now you are in trouble because you have put in an offer for the home of your dreams and you haven't got enough money to buy it. And that was before Covid-19!
That has added a completely new dimension, and the shock to the real estate market has been great. As a result, if you want to sell a home in Plano, Texas, nobody is buying. Well, nobody other than us at We Buy North Texas Homes. Our name is a bit of a giveaway, really, because buying and selling homes for a living is what we do, and we're certainly not going to let Covid-19 get in the way.
We'll Buy Your Home, House, Bungalow, Hut, Living Space – For CASH!
That means that if you want to sell a home in Plano, Texas, we will buy it. What's more, is that we will pay cash. We have the cash in the bank, and if you agree to sell to a home to us fast, that cash will be in your bank in very short order. It doesn't matter what condition your property is in, either. We will make an offer. Our professional home buyers have been known to buy a home that had no roof in the past, so a bit of redecoration or new double glazing is no problem to us.
Many people are having trouble paying their mortgages at present, often because their job has been wiped out by Covid-19 and they have no job to go back to. That is one of the chief reasons that people aren't buying: they can't get a mortgage. True, a lot of banks have been holding off on mortgage repayments for a while, but there is going to come a point not too far away when they are going to need those payments to recommence, which makes it difficult if your job has disappeared.
But don't worry: if you want to sell a home in Plano, Texas, at We Buy North Texas Homes, we're still buying. So give us a call and we will make you an offer. There is no obligation upon you, so you have nothing to lose.