We live in a fast-paced society here in the North Texas area. Everyone in Plano seems to be in a hurry! That definitely goes for people who want to sell their homes. Who really wants to wait for six months, nine months, or even longer, and let their home sit on the market? No one.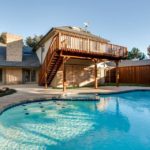 Unfortunately, as the old expression goes, that's the way the cookie crumbles. And the situation is even worse after Covid-19. This pandemic has really set the cat among the pigeons. Nobody is doing anything. People have lost their jobs. Still, more will lose theirs over the coming months because the jobs are disappearing by the day. Companies are going bust, left, right, and center.
And if you are in the middle of all this and are searching Google for "sell my home fast in Plano" you probably won't find a lot of answers. Forget "sell my home fast in Plano". If you left out the "fast" bit you would probably get a few inquiries from realtors who would all promise to sell your home for you – and fast – but their definition of "fast" today is probably something less than a year!
Let's face it: people who have lost their jobs are not going to be able to get a mortgage, even if they wanted to move. Heck, they probably can't afford to pay the mortgage they've got now.
All of which means that trying to "sell my home fast in Plano" is a non-starter.
Unless You Talk To Us – Professional Plano Home Buyers
That is, unless you come and talk to us at We Buy North Texas Homes. Forget the state of the market. Forget mortgages, escrow, bank loans, and all that kind of stuff. We will buy your home in Plano fast, and we will buy it for cash!
Yes, we have oodles and oodles of cash sitting in our bank because our business is buying homes for cash. Certainly, we sell them on again and then buy more, so we have to make a profit – or we wouldn't have the cash to offer you.
But here's the good part. While the market may be in the doldrums in many respects, to us that doesn't matter. Why? Because we can afford to wait until the market picks up again. So if you need to sell your Plano home fast – and for cash – we will buy it. In fact, we guarantee to make you an offer.
You don't have to accept our offer, of course. That's up to you. But we do guarantee to make you an offer. And we think you will be pleasantly surprised.