If you want to learn how to sell a home in Plano, Texas, you have a couple of options. The first is to place your home in the hands of a real estate agent and let them do all the advertising and showing people around the property.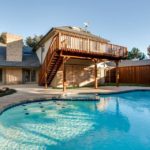 Alternatively, if you don't want to pay a realtor a commission, you can advertise it yourself as "for sale by owner".
But did you know there is a third option? Yes. There is. You can sell it to us at We Buy North Texas Homes. This is how to sell a home in Plano, Texas, the smart way. We buy for cash. What's more, we guarantee to make you an offer, no matter what condition your home is in. The roof could be falling off, and we will still make you an offer.
The problem you have today when trying to find out how to sell a home in Plano, Texas, is that as a result of the Covid-19 crisis, the market is not exactly buoyant. Indeed, many people who were going to move at the beginning of the year have put their plans on hold.
At the same time, there are people who have lost their jobs because of the pandemic, and who can no longer afford to carry on paying their mortgage, so they are putting their homes on the market. It's a classic lose-lose situation at present: too many homes for sale and not enough buyers. Added to that, there will be more homes coming on to the market soon, as lenders foreclose on those who cannot pay the mortgage.
You Are Going To Be Waiting For A Very Long Time
What that means is that, if you try to sell your home, either by using a realtor or advertising it yourself, unless you offer it for silly money, you are going to be waiting a very long time before you get an offer, and even then the offer is likely to be well below what you want.
However, if you choose to sell your home to us, we guarantee to make you an offer. No, It won't be quite as much as you might get if you are prepared to – and can afford to – sit tight for another two or three years, but we will make you a fair offer. You don't have to accept it, of course.
However, if you do decide to accept it, you can have cash in the bank and be on your way in a couple of weeks. We can always wait longer if you need to find another home first. The choice is yours, but the offer is there.