Speed is of the essence, so it is said. The economy and society are in flux, given all that is happening in our country today. Perhaps you've lost your job in Plano and got a new job in Detroit. Or perhaps you need to sell fast and downsize to a smaller property.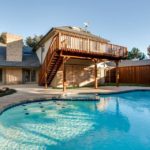 Speed and timing can be very important. Well, if you want to sell your home fast in Plano, or the surrounding cities, you need to talk to We Buy North Texas Homes.
Our name is a bit of a giveaway really, isn't it? It's what we do. We buy homes in North Texas and we buy them for cash. There is no hanging around while we try to obtain a mortgage from a bank. We have cash in hand – a lot of it – and we will make you an offer on the spot. We're professional cash-only buyers of homes.
Furthermore, it doesn't matter what condition your property is in. Even if it has seen better days and needs a lot of work done to it, we will still make you an offer. You don't have to accept it, of course. That is entirely up to you. But we will make you an offer if you want to sell your home fast in North Texas.
It's Going to Be Even More Difficult To Sell After The Pandemic
Because of the pandemic, it is going to be even more difficult to find people who want to move home. Who really wants to "up sticks" and move home just now? Not that many people really. But if you have to sell your home for one of any number of reasons, we will make you an offer.
We will buy single family homes, condos, duplexes, townhouses – in fact pretty much anything that has a roof over the top. We'll even make you an offer if the roof needs replacing because it is letting the rain in. We have been buying homes in North Texas for cash since 2005 and we are not going to let Covid-19 stop us. We can't let it stop us, because it is our business and is the way that we earn a living.
We process everything for you fast. You can either fill out a form online or phone us, and we will contact you within 48 hours to fix a mutually convenient appointment to look at your home. Then we'll work out the figures and present you with a fair and fast offer – for CASH, remember. There's no obligation and you don't have to accept it.
If you do accept it because you want to sell your home fast, we will deal with all of the court filings, documentation, and paperwork. We will schedule the close, transfer the deed, and bingo! You will have a check in your hands for the full amount. What could be better when you need to sell your home fast?