It may well be today that you need to sell your home fast in Plano, Texas, as a result of having lost your job because of Coronavirus. If that is the case, there are millions more like you who all need to sell their homes fast because they haven't got enough income to pay the mortgage.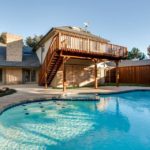 But here's the catch. There are also millions of people who are not in the market for a new home because they haven't got enough income to pay the mortgage. It's the perfect Catch 22 situation. Loads of people who need to sell and loads of people who can't buy. You may even have tried Googling something like "buy my home Plano, Texas", but we'll bet you didn't find a lot of takers.
"Nah. Forget it"
Ask any realtor here in the suburbs north of Dallas such as Plano, McKinney, or Allen. The market is virtually non-existent. Nobody is moving at all. Apart from not being able to get a mortgage, even those who can are looking at things like the cost of physically moving, doing up a new home by repainting and decorating, new carpets, new kitchen, and all that stuff, and thinking to themselves "Nah. Forget it".
That is why Googling "buy my home Plano, Texas" is not going to get you anywhere.
Find a Home Buyer for Your Home (Fast)
For every transaction there has to be a buyer and a seller. There's the guy who buys the pizza and the guy who makes the pizza. But if there's no guy who buys the pizza there is no point in the guy who sells the pizza making it in the first place.
Then there's the guy who wants to sell his home fast and the guy who buys homes – a professional home buyer. That would be us at We Buy North Texas Homes. Don't waste your time Googling "buy my home Plano, Texas", just come straight to us because we WILL buy your home. Buying and selling homes is what we do for a living, and even in these extraordinary times, we still NEED to buy homes – and we buy them for CASH. We have plenty of cash available to buy Plano homes and we still want to buy them, so let's meet up and talk.
This is how it works: we will make an appointment to come out and view your home. We'll go back to our office and crunch the numbers and we will come straight back to you with an offer. Guaranteed. If you are not happy with our offer, that's no problem. We'll part company as friends.
If you do decide to accept our offer, then we will deal with all the paperwork and pay you a great big lump sum in CASH. No mortgages. No banks involved. Just good old cash.
What could be easier?